Severe Bleeding
Loss of more than a quart of blood is a threat to a person's survival. Hemorrhage from the aorta or from combined external and internal injuries may be so rapid and extensive that the victim dies almost immediately. The loss of blood in some other kinds of wounds such as the partial or complete severing of an arm or leg, may not cause death as quickly, but large amounts of blood can be lost, and bleeding must be controlled.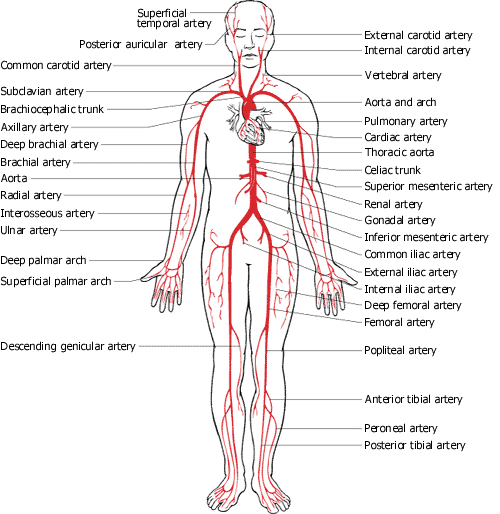 Location of Arteries in the Body Figure 1-1
The body of a victim who is bleeding severely can make some natural adjustments that help to slow down the blood loss. Even initial severe bleeding, such as the uncontrolled hemorrhage from a cut artery, may lessen or stop spontaneously. When a large blood vessel is completely severed the normal elasticity of muscle layers in the vessels walls tends to make the cut ends retract. This retraction reduces the size of the opening through which blood can escape, and the flow of blood may slow down enough to initiate clothing. However, if a blood vessel is not completely severed, it will not retract to reduce the size of the opening the bleeding will continue unless clotting occurs or the blood pressure decreases.
Blood pressure is another natural influence on bleeding, when the pressure drops it decreases the volume of blood in the vessels, bleeding from a wound would tend to slow down. A lowered pressure, however, is a grave sign, and death from severe shock is possible. First-aiders are urged to remember that a relatively small amount of bleeding, such as that from an open scalp wound, can make a victim look as if he were in a critical state, even when there is no danger of death due to bleeding. However, it is logical to assume that any loss of blood is harmful to the victim, in as much as if could interfere with the normal functioning of his circulatory system, and the possibility to bleed to death in a very short period of time, blood loss of any amount should be stopped immediately.
If you suspect internal bleeding, seek emergency help. Signs of internal bleeding may include:
Bleeding from body cavities (such as the ears, nose, rectum or vagina)
Vomiting or coughing up blood.
Bruising on neck, chest or abdomen.
Wounds that have penetrated toe skull, chest or abdomen.
Abdominal tenderness, possibly accompanied by rigidity or spasm of abdominal muscles.
Fractures
Shock, indicated by weakness, anxiety, thirst or skin that's cool to the touch.
What Do You Think?