Family Nursing Care Plan Part 2
by: Luvi Jane Cruz
Scholar Nursing Student

HEALTH HISTORY
A. BIOGRAPHIC DATA
The client's name is JCP, a 17 years old, single, female, and lives at 5985 J. B. Miguel St. Bambang, Pasig, City. She is a Roman Catholic although she was born on October 10, 1989 in the Kingdom of Saudi Arabia. The client is a pure Filipino citizen who can speak Filipino as well as English. She is currently a 2nd year college student at Far Eastern University taking up BS Nursing. Her parents and guardians are her source of finances with regards to health care and medical needs.
B. PRESENT HEALTH HISTORY
The client stated that she is not experiencing any problems or disease at present times. She also said that she rarely acquire a disease.
C. PAST HEALTH HISTORY
The client had chicken pox when she was 7 years old and received medical treatments but she doesn't anymore remember the medications that were given to her. She said that according to her mother, she had received OPV, DPT, and BCG immunizations during childhood. The client has occasional rashes on the chest due to hot weather. Her dermatologist prescribed her Stiemycin as a treatment. She also applies acne gel (applied every other day), tretinoin cream and bleaching cream (both applied every other night) on her face in order to treat pimples. So far, the client has not experienced any side effects while using the said drugs/medications.
D. FAMILY HISTORY OF ILLNESS
The client's father, who's 38 years old, has diabetes while her mother, who's 37 years old, has asthma. The grandfather of the client on her mother side, still living and is 81 years old, has tuberculosis while her grandmother still on the mother side is 70 years old and has arthritis. The client's two other younger siblings, whose ages are 11 and 14, have currently no diseases inherited from their parents. The client also said that she at present, has no diseases.

3 DAYS DIET RECALL
Name of the client: Jenileen Carlette T. Peronilla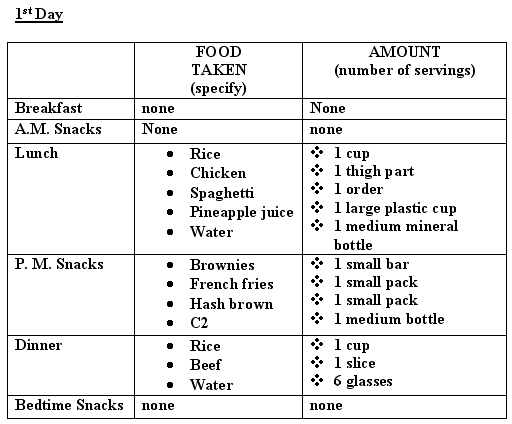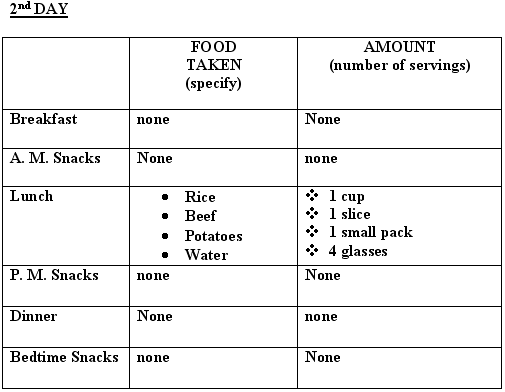 What Do You Think?