Poliomyelitis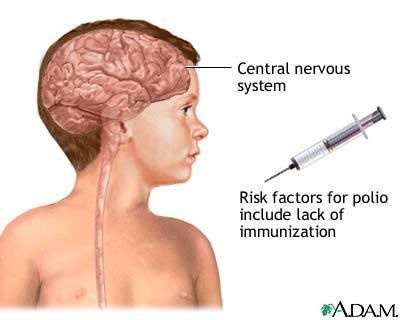 DEFINITION:
– is an acute infectious disease caused by any of the three types of Poliomyelitis virus which affects chiefly the anterior horn cells of the Spinal cord and the medulla, cerebellum and midbrain.
– Characterized by two febrile episodes, a minor and major illness separated by a remission of one or two days followed by varying degrees of muscle weakness or occasionally a progressive Paralysis that ends fatally.
SYNONYMS:
Acute Anterior Poliomyelitis; Heine-Medin Disease: Infantile Paralysis.
ETIOLOGY AND EPIDEMIOLOGY:
– the causative virus is poliovirus (Legio Debilitants)
– there are 3 distinct serelogic types of poliovirus (with no cross Immunity)
1) Type I – is the most paralytogenic or the most frequent cause of Paralytic poliomyelitis, both epidemic and endemic.
2) Type II – the next most frequent.
3) Type III – the least frequently associated with paralytic disease.
Types of Poliomyelitis
1) Spinal
Ø Cervical

Ø Thoracic

Ø Lumbar
2) Bulbar
Ø Cranial nerves

Ø Circular System

Ø Respiratory System
3) Bulbo-spinal
4) Polioencephalitis